The 18th marked 4 months.  The days keep going, though I'm not sure how so many days have passed. I still feel frozen and disconnected.  The kids schedule keeps me so busy that I really don't have a lot of down time to think about anything – but when I do, whew.  I feel bad about this too – I want the down time, but I know that Stef would want us to stay busy.
It doesn't happen often, and I have to admit I'm jealous of the kids because of this, but we had a breakdown tonight.  Violet was pretty upset, as she said she "missed mommy."  There's nothing to really do in this case, beside drop any expectation of doing anything else, and just be there.  Long hug, and just let the tears go.
Last weekend, Saturday, was Stef's birthday.   She'd have been 39.  Birthdays should be a joyous occasion, and the thought crosses my mind that we should celebrate life – Stef's life.  Easy to say.  I'm still shaking my head as I consider that a moment after I type it.  Thirty-nine.  That number doesn't even sink in.  I'm in disbelief.  Thirty-frickin-nine. She was suppose to live to more than twice that, and we were suppose to sit on a porch, watching the sun set, while holding hands.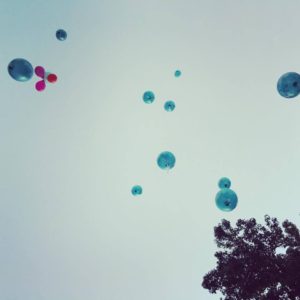 So, I spent her birthday trying to stay as busy as possible.  The morning, we cleaned the house a bit, and then had a soccer game, followed by church, where Acadia was an alter server, and then dinner with Stef's parents, Courtney, Darrell and Chloe.  Had the thought earlier in the week to let some balloons go, maybe have the kids write messages on them.  It was nice, emotional.  I tied a few together, red, pink and teal, knowing she would appreciate the colors, almost like different colored flowers, wrote my messages, and let them go.  We watched them float into the sky and fade out of sight.  (Photo credit Courtney)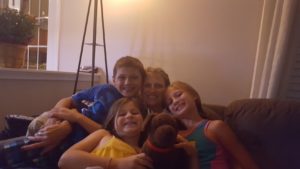 Trying to recall the positive – to celebrate – I recall Stef's 18th birthday – 1996, she was a freshman at Salisbury.  We had just started dating.  I gave her a stuffed dog which looked 'chocolate-lab-ish.'  I knew she had a chocolate lab back home, and figured I'd get her a dorm-friendly one to keep her company.  We named it 'Gator' and he stayed with her all the time.  Now Gator has a prominent place in our room, and I talk to him pretty often.. (Picture to the right was from her birthday last year, however has Gator in it).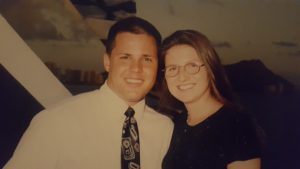 In '99, when she turned 21, we were in Hawaii, having being married in March of that year.  We went on the Star of Honolulu cruise, and I recall she had a lava flow drink. This was a pina colada with strawberry daiquiri mixed in.  The next two years in Hawaii, we enjoyed beaches and/or hiking/enjoying the islands.
A number of birthdays in between – for whatever reason, some don't stand out.  This saddens me.  I can go back and find pictures, which do make me smile a good bit, but I'm filled with sadness that I should have appreciated all of those times more.  I do wish I could relive those times  – or be frozen in those times.
Last year, we had a big dinner at Cafe Mezzanotte with family and friends.  Year before that, I took her to downtown Baltimore, and we rode the water taxi a bit, enjoyed a sunny September day and had lunch.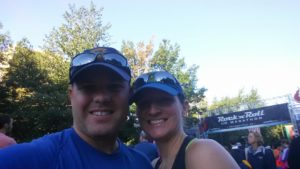 A few years prior, we both ran a half-marathon in Philadelphia. (Did that two years in a row).  I feel bad, because I remember feeling so grouchy about that race – I can say I've never enjoyed running – not like Stef, and now I feel I would go back and gladly take her to her races, any run or race, run along with her and I'd be 110% happy to encourage her.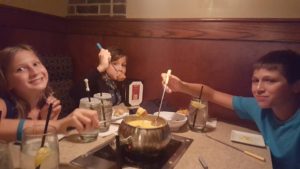 Lately, I find it extraordinarily difficult to reflect positive things – be it as simple as posting a picture as I take the kids out to dinner for Acadia's birthday – oh, the inner conflict I battle.  Then, of course, the acting job, fueled by adrenaline, for the Stef Ripple 5K which we did on the 9th.  If I may say- I think that it went extremely well and I  have to extend an enormous amount of gratitude to my planning team and volunteers, they did an exceptional job.  An absolute exceptional job.
The 5K event – I'm so very grateful for all of the support, the folks who came out.  A few noteables – Violet's entire soccer team, the Lightning Bolts came out, several of Owen's teammates came out, and practically all of the kids counselors from Camp Kesem.  In a very emotional finish, Owen finished first, stopping short to throw up, and then throwing up again after crossing the finish line.  He gave 100% effort to win that race – leaving everything on the course, and finished in 19 minutes 54 seconds.  From an independent perspective, the remarkable gentleman who finished just a few seconds behind Owen, Derek Ross, wrote a blog entry which itself is a fantastic and emotional read.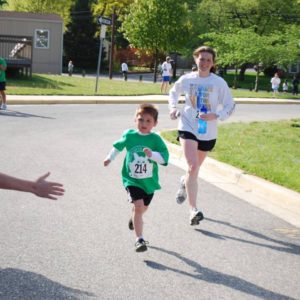 Owen, aged 5 at the time, running the Belvedere 5K, with Stef running him in.  (Photo credit – Fran E. – I imagine she ran him in like this on this recent 5K as well).
As soon as the 5K was completed, I felt completely emotionally and physically exhausted – to the point where I pretty much just wanted to hide and have absolute quiet.  The kids don't much allow for that, so it is what it is.
So, with all of the events and activities, the birthdays and the first school days, the days keep marching forward.
One more day.