Valentines Day, February 14th, 2017 is a day that haunts me.  It was a Tuesday.  While I have the ability to work from home often, this was a morning where I was getting ready to head in to the office (which is in Northern VA). I remember getting ready upstairs.  Stef was downstairs already.  I remember seeing her standing at the bottom of the stairs, a look of pain on her face.  She had been fairly uncomfortable that night, and that morning was extremely uncomfortable.   I remember the exchange we had.  At the same time, the kids were just waking up, with the typical morning chaos ensuing in the house.  She wasn't going to be able to handle them.  I looked at her, okay – we're going to go to the hospital.  Off we went.  Ultimately, we checked in to Johns Hopkins that day, and I can't remember the count, but we were there at least a week.. The blog history probably has something more specific to those events of that hospital stay. (I have since found the blog post and linked it.  It is entirely surreal reading what I had posted in the past.)
Why am I thinking about this?  My mind has been working in a backwards loop. I think back to significant events and for some reason I'm getting stuck on them.  There are a few things that just keep looping in my mind.  That event, that morning – forever changing Valentines Day..  That was the start of the steep downward spiral..  It was that point, during that stay in the hospital, that we learned that we were basically out of options.  We were going to finish out our current treatment plan in an effort to see if it worked, but beyond that…
I don't know.
There are many things different now.  House routines don't really exist yet.  Though the kids and I sat down and outlined some family rules.  The first rule of fight club, you don't talk about fight club.  The second rule of fight club, you do not talk about fight club…  Wait, I was looking at the wrong rule list..  Anyway, we did come up with a list of rules.  I've tried out Amazon Fresh a three times.  So far, I quite like it.  I feel like I'm getting the convenience of very quick delivery, and saving me the hassle of going up and down the grocery store isle buying things that I don't need.  Aside of that, some of of the other realizations I'm making –  Stef would handle a lot of the "administrative" items of the house.  I've had to put together strategies and processes for handing bills, etc, which I'm probably still missing a few here and there..  But what I find pretty difficult is keeping up with the calendar and kid registrations for things.  Woah – that's massive.  It's also a pretty good gut punch every time I'm filling out a form where it's asking for two parent contacts, or an emergency contact.  Seriously – I don't remember not having Stef as the single only emergency contact I would ever need.  If anyone is curious, I make up a different name now for each form – recently I've listed John Corey and Mickey Mouse.  As far as the calendar and Fall activities starting, the thought crossed my mind to line up a few Uber rides to get the kids to/from various things.  In all honesty, I'm very thankful to have local friends who's kids are also involved in the same activities that I can offload them.
This past Saturday, August 12th, Owen turned 13.  He's officially a teenager.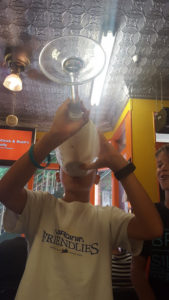 I hashed together some sort of plan for his birthday, which started with a family dinner on Friday night.  Saturday, he and some friends would then try an escape room in Annapolis, followed by milkshakes at Chick and Ruth's in Annapolis.  This turned out to be a big hit.  The boys made it out of the escape room with 44 seconds left on the clock.  They were ecstatic.  They knew, going in, that the escape rate for that room was roughly 15%.  After that, we walked down to grab some 6lb milkshakes, and the boys made quick work of them (well, 1 1/2 of them, though 4 alone downed one full one in about 11 minutes.)
So, Owen is now 13.  The day was pretty hard for me.  I know that I carry Stef with me.  She's with Owen and his sisters as well, but she's not here.  It's just something that she'd be there for.  I'm completely out of words there.
Sunday, I dropped off all 3 kids at Camp Kesem.  Camp Kesem – is quite amazing.  Children who's lives have been touched by cancer – supporting children through and beyond their parent's cancer.  Johns Hopkins University runs a chapter of it at a camp in southern Maryland.  This is the third year that the kids have gone.  It's a sleep away camp – and sort of amazing that you consider, this is Violet's 3rd year.  The girl has been going to sleep away camps since she was 6.  Pretty neat.  All 3 were very excited, and they basically scattered as soon as I parked the car.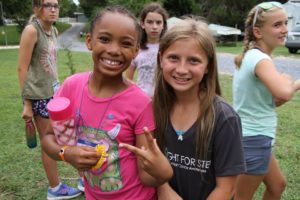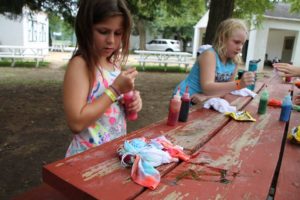 I haven't heard from them since, but I've seen some pictures that the camp has posted – they look like they're having a great time.
What that means for me, however, is that I am woken up by a cat and a dog wanting food.  Sure, they look innocent enough, but when breakfast time comes, and they don't have their food, watch out.  The house is entirely too quiet, and neither Macy (dog) or Reese (cat) have anything really interesting to say, unless it has to do with me giving them food.
But I've been keeping busy.  I don't want to go and admit that I miss the group of mess-makers (oh the messes they can make!), for fear that as soon as they get home they'll deliberately try to make up for the week away by emptying their bags on the living room floor.   I admit that it is pretty easy not having to load all of our glasses in to the dishwasher, muttering "how do you guys use every glass in the house!" (I don't know that I've used more than one glass all week!).  Or not tripping over someone's backpack or shoes, left in the middle of the floor..  That's okay.  It's okay for a day – call it a break – but that's about it.  So I'm looking forward to when they get home later this week.
5K planning is still in full swing.. We've hit a certain milestone on registrations, which has me wondering if we need to increase our preorder on t-shirts, and we've got a few more fantastic sponsors lined up as well.  Be sure to visit that page to see further details and register.