Okay – trying to get a post out.  I've tried, several times.  I have quite a few drafts – which I'm not going to bother looking at.  Those posts either ran on too long or took a pretty deep downward spiral (both).  I don't talk to a lot of people, I tend to just bottle things up – I try to vent some of that on these posts, but I scrapped those posts.  I suppose it was helpful just to type them.
The end of this week will mark six months.  I'm in disbelief as I type that.  I don't know how so many days have gone by so quickly.  Really, it feels like just yesterday.
Even as I type this, with determination to post something, I'm deleting paragraphs at a time and retyping.
The last two months I've struggled a good bit.  Thinking about the timing – this is all after the 5K which was such a build up, so much positive energy and motivation for the purpose.  Afterwards – just seemed like a steep drop off – whew.
I've tried to create some positive – forced fun – fake it till you make it.  I took the kids to a pumpkin patch (pictured below, left) that we'd been to as a family in the past (pictured below, right), then we went to the Maryland Renaissance Festival one day That was a pretty busy day, and pretty emotional for me.  Walking around the pumpkin patch – literally forcing one foot in front of the other as the kids ran from one "this one, this one!" pumpkin to the next.   Just tough to do.  I wanted to take the kids there, we'd gone there many times in the past, but indeed, feeling just so lost.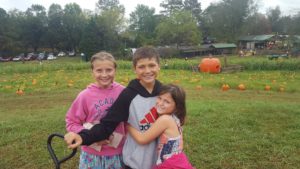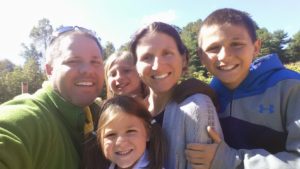 The kids have all been busy with their soccer, and swimming has picked up as well (they just had a swim meet the last weekend).  I have to give a big THANKS to Owen and Acadia's teammates (parents) for hauling them around to so many practices and games.  I'm sad to admit I think it has been since September since I've seen Owen play a full game.  I've been at all of Violet's games as I'm fully involved in coaching that team (and really quite proud of her and her team!).
Also ventured out to a Redskins game – yikes that was rough!  Lost to the cowboys in a very cold rain.  The tailgate was a lot of fun with some good friends though!
Tried to be productive around the house a little bit.  Last February when we went in to the hospital on Valentines day, during one of my nights back at home I repainted the bathroom.  I still had touch-up work to finish, which I finally got around to, along with putting up new hardware which had been sitting there for months.
Beside all of that, this time of the year is pretty rough.  A year ago at this time, Stef was actively uncomfortable. She had building discomfort up until Thanksgiving last year, at which point we switched to a trial drug, where she started to feel better the subsequent two months, before the quite steep downturn in February.  So, here I am now, full of second guesses and regrets – namely what could we have done differently last year at this time – and that's going to continue.  Pretty rough. Breathe.  Breathe.  Breathe.
Coming up there are quite a few things going on.  This weekend, each kid goes a different direction for their own soccer tourney.  The weekend after we've got Thanksgiving.  That morning I'm kicking around the idea of hauling all 3 kids out to the local Turkey Trot 5K, before I then hide for the rest of the day.  Then December is going to start with the DeCesaris Prout Jingle Bell Run, on Saturday December 2nd, which is going to be quite difficult for me.  Last year Stef did this run, it was her last 5K.  I don't know how I'm going to do it.