One more day.
I'm sitting on the eve of 8 months.  8 months on the 18th.
I seem to lack the energy or motivation to post blog updates.  I really don't feel like my muted ramblings are the "positive" message which we truely want Stef Ripple to be.
Regardless, I'm going to try to start with some positivity, however.  Some of us on the Stef Ripple team recently met with some folks from Johns Hopkins, including Stef's doctor to discuss some potential partnerships where we may be able to assist some of the very specific programs for Ovarian cancer patients and their families. I am truely feeling very good about this, knowing that it's very important and something which would make Stef very proud.  Stay tuned for updates.  There are a few things in the coming months which we'll be planning!
Now, catching up on the last two months.  I am really in awe how time moves forward while I feel frozen and this empty pain seems to tear through my soul.  During quiet times I find myself talking to Stef, talking to myself, asking questions, giving myself answers, yet not really making sense of anything. I'm certain that the dog and cat think I'm nuts.
Thanksgiving was uneventful.  It's just a day.  A busy day. I took the kids to Stef's parents house, then we went to my parents house.  The next day was the traditional day where Stef would go shopping with her mom and sister, while I would decorate the house with the Christmas lights.  Owen has been helpful the past few years, and this year I put it on him.  "You want to decorate outside, this is all you bud."  I didn't have it.  We got about half the lights out, put up our light arches, Acadia and Owen drove most of it.  We stopped short of putting them on the house because I knew they couldn't reach the gutters on the top, and I just didn't feel like it.
We did manage to get out and do the ol traditional 'cut down a tree' thing – we'd done it in years past, and went out again.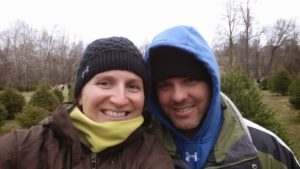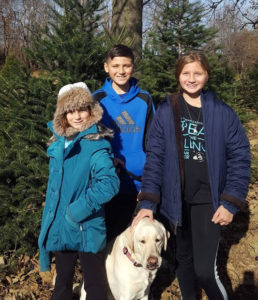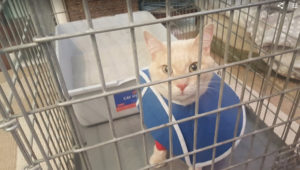 I took to Amazon to do most… all… of the christmas shopping I needed to do.  Did well.  In the meantime, the days between Thanksgiving and Christmas, Reese, our cat, got in to something he shouldn't have, and proceeded to throw everything up for a pair of days.  That's fun.  I ended up taking him to the emergency vet, and a few thousand dollars later, he came home with a cone of shame and pain meds, having had surgery for a suspected obstruction (no obstruction.)  He has since recovered and is back to normal, but he made for a distraction for 2 weeks on the run up to Christmas.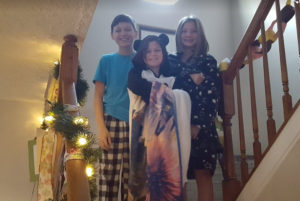 Christmas itself – that was always special to Stef and I.  I tell myself that. Stef was the center of my universe, so prior to, and after kids I would try to elaborately surprise her for Christmas.  It wasn't always dollars though – it's the little things.  The hugs, the smiles, Stef putting the angel on top of the tree, the cinnamon rolls and hot chocolate on Christmas morning, the kids and Stef waiting at the top of the stairs, me at the bottom with the camera, the way she'd grin so big, wrinkling her nose and squeezing her hands, making a little "eeeeeeeee" noise in excitement when she'd see the tree and the kids happy faces as they ran toward it.
Christmas Eve was always a team effort.  She'd help the kids set out cookies and milk – while I'd put a beer next to the cookies.  Then after she'd tuck in the kids, we'd wait a little bit till they were asleep, and she'd then keep on the look-out for the kids, while I'd busily bring gifts to the room, she'd fill the stockings, arrange the gifts which Santa had brought, and she'd "shush" me if I were making too much noise..    This year, we didn't put a beer out.. Acadia wayyyyy over-did the cookies… Reese (cat) got in to them.  Seriously – he eats anything.  I had to put most of them back, threw some out, scattered half-bitten carrots outside (the reindeer eat them!)..Dumped the milk out (it was warm by then, and Reese had helped himself to some)..  I went off to bed, probably shortly before 1.  Didn't really sleep.  Prayed/pleaded for a dream or conversation with Stef.  I can't recall having any dreams in a long time.  Really – it was pretty rough.  Don't remember falling asleep, but eventually was woke up by the kids around 730.  They'd been trained by Stef that they aren't allowed downstairs on Christmas morning unless both she and I were up and with them.    Checking the clock, and yet, not really interested, I did get out of bed, gave the kids some hugs, told them to wait while I went downstairs with the camera and preheated the oven for our cinnamon rolls.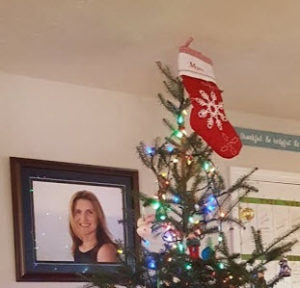 A few moments later, they were allowed access and it was a "normal" Christmas morning for them.  Presents, presents, presents.  I don't remember anything specifically.  Really – I'm not sure if it was the toilet seats that I had gotten each of them, the socks, or if I didn't put enough coffee in my bailey's.  I don't remember specifics – only that Christmas morning happened, and it apparently happened quick.  It's fine.
We went off to my sister's house, where my parents were at as well, and we did the Christmas thing there before we returned home.
We got home that evening, and I recall looking in the fridge, looking at the kids, who were busy and happy with their new things – "you guys good?  leftovers alright?  watch a movie if you like?  okay… I'm going to bed."  I wrote a bit in a journal and was in bed by 6:30pm.
The next day was Christmas round 2, at Stef's parents house.  We weren't due to arrive until around 2, so it was a lazy morning, I probably didn't get out of bed until 10.  We did the whole Christmas thing again, and the kids had a lot tof fun.  We went home that evening, and I went off to bed.  Just get through the days.
I had taken a few days off work, so things were pretty relaxed, the kids kept themselves busy, and I had to force myself out of bed on more than a few days in between.  Now – whew – also in play at this time – one of Stef's really good friends – her husband had been diagnosed with Pancreatic cancer earlier this summer.  So – I won't even say try to imagine this – watching your friend, as she did, go through Ovarian cancer, this battle over this whole time – and when this frickin battle ended as it did – your husband is diagnosed with pancreatic cancer?  This is the stuff out of nightmares.  I don't know what else to say with this – her husband lost his battle just before Christmas.  This is an absolute unfair and distorted reality. Ridiculous.  When I got word about this, I'm instantly in flash-back mode.  What happened in May, what was my mental state, what is my mental state now.  Jello.  What can anyone do?  This is absolutely impossible.   There's no comprehending any of this.
Shattered.
So, in the meantime, the viewing and funeral had been held.  I was very happy that both Owen and Acadia could alter serve at the funeral.  They made Stef proud doing that.  A few days ago, Courtney, Stef's sister, came over to help sort through some of Stef's closet.  Wow.  This is stuff that is damn near impossible as well.  Several weeks ago, I made an initial attempt, solo, I had gotten a large bag from the attic and some vacuum storage bags, tried to go through some items, found some "easy" things like work clothes she had, they were easy to put in storage.  Then I got to clothes that I had fond memories of – shirts, dresses, which I knew she liked to wear.   Couldn't do it.  Then I had the thought – "would Courtney want any of these work clothes?"  This was my way of thinking that I could get her to help and accomplish my goal of trying to put some things away.  Poor Court.  It worked, she came over and probably spent a solid 4 hours going through things.  I was very thankful that she was able to take so many clothes and help me put many items away in storage.  The girls may fit and want a few of those things in a few years, so I can save them for then.
So here we are in 2018 now.  I don't need to say anything about 2017.  What of 2018 – what is reality? I know I've been struggling a good bit, and it's not really something I've shared with anyone really.  I've been quiet and keeeping things to myself.  Is the pain I'm feeling uncomfortable to others? Yeah, I'm sure it is. If given the choice of being home, alone and sad, or out with others and uncomfortable because I was hiding how I feel, I'd gladly stay home.  That is what is real.   I need to hear her name, I need to hear stories about her, I need her acknowledged.  It happened.  It sucks.  It's what I am dealing with.  Do I wish it was different?  Damn right, with all of my heart.
A quote from a book that I've recently read – Megan Devine's It's Ok That Your'e Not Ok: Meeting Grief and Loss in a Culture that Doesn't Understand:
"Some things cannot be fixed; they can only be carried.  Grief like yours, love like yours, can only be carried."
I carry it.  One more day.